Scanned MicroVAX 3500 Documentation
This page contains scanned copies of the manuals that came in a ring binder with my second MicroVAX 3500. At the time I scanned it these manuals did not appear to be available from anywhere else on the internet.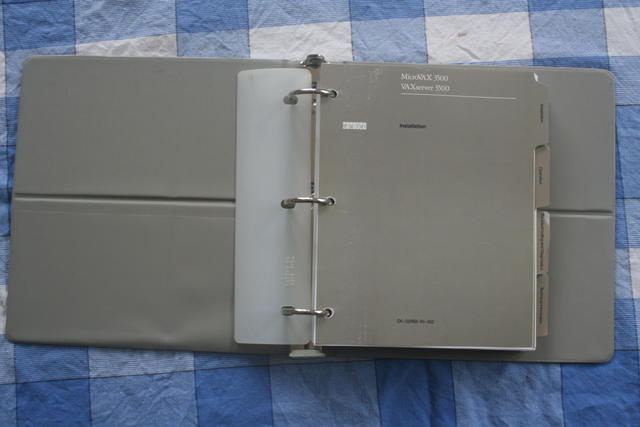 The documents were scanned using scanimage in batch mode at 600dpi in lineart mode. The image format was TIFF and the size was 180x230mm. The exact command was:
scanimage --format=tiff --batch=page%d.tiff --batch-prompt -p -x 180 -y 230 --mode lineart --resolution 600
The images were then converted to lossless Group 4 fax compression (ITU-T recommendation T.6) and put in a PDF file using Eric Smith's tumble.
| | | | |
| --- | --- | --- | --- |
| Tab Name | Order Number | Title | Size |
| Installation | EK-O27AB-IN-002 | MicroVAX 3500/VAXserver 3500 Installation | 2MB |
| Operation | EK-O28AB-OM-002 | MicroVAX 3500/VAXserver 3500 Operation | 4.17MB |
| Troubleshooting and Diagnostics | EK-O19AA-SG-001 | MicroVAX Troubleshooting and Diagnostics | 2.53MB |
| Technical Information | EK-O30AB-IS-002 | MicroVAX 3500/VAXserver 3500 Technical Information | 4.52MB |
| Site Preparation | EK-239AA-SP-001 | MicroVAX Site Preparation | 1.35MB |
| Customer Services | EK-238AA-MS-001 | MicroVAX Customer Services | 1.68MB |
| rtVAX Addenda | EK-226AA-AD-001 | MicroVAX 3500/VAXserver 3500 Addenda to MicroVAX 3500/VAXserver 3500 Customer Hardware Information | 213KB |